YouTube Shorts have become incredibly popular over the past year, allowing content creators to share short-form content. However, one question that many have been wondering is: do YouTube Shorts make money? In this guide, we'll walk you through a YouTube Shorts monetization deep dive, covering everything from how it works, why YouTube Shorts is hard to monetize and actionable tips for Shorts creators.
While the YouTube Shorts fund ended in February 2023, Shorts creators monetize YouTube Shorts via the YouTube Partner Program.
YouTube Shorts monetization requirements – what's new?
As of September 2023, YouTube's Partner Program (YPP) has updated its requirements for Shorts creators. To be eligible for YPP, you need to have 3 million public Shorts views, 3,000 valid public watch hours, 500 subscribers, and at least three uploads in the last 90 days. Meeting these criteria allows you to apply for YPP and start earning money from it.
However, in order to earn AdSense, which allows content creators to receive ads revenue from their Shorts views, the requirements are still slightly higher than the ones listed above. You'll need 1,000 subscribers and either 4,000 valid public watch hours in the past year or 10 million valid public Shorts views in the last 90 days. When you meet the criteria for either of these programs, you'll be able to monetize YouTube Shorts and start earning from your uploads.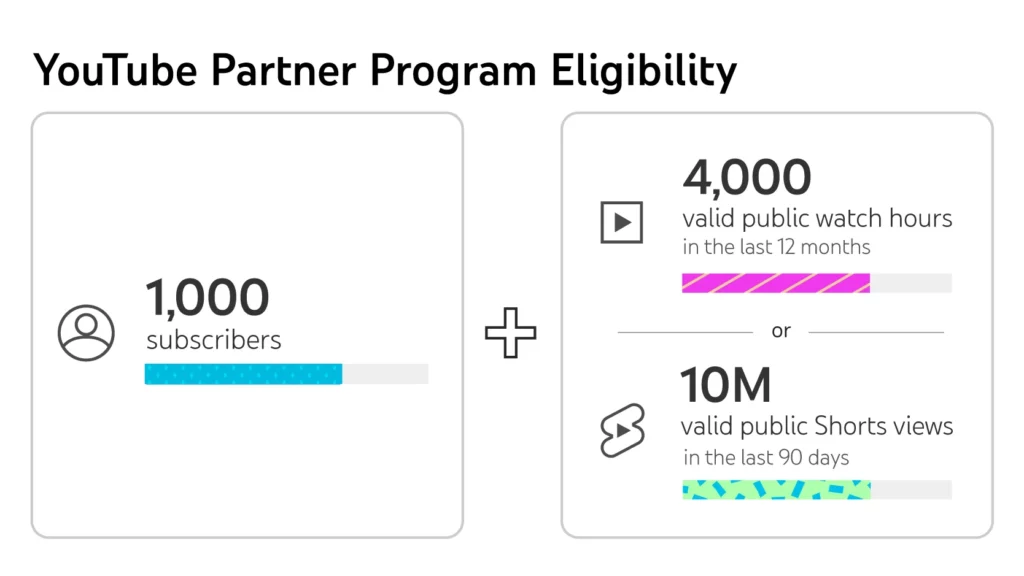 Are My Shorts Eligible?
Just because you meet the above criteria doesn't mean that your Shorts are eligible for ads revenue sharing. If you are part of YPP but aren't able to monetize, it is likely because your Shorts do not meet the eligibility criteria:
Non-original Shorts: this includes reposted material from other creators, unedited clips from movies and TV shows, and compilation videos without added original content. For example, if your content primarily consists of reaction videos to other creators' content, it can be tricky to gauge, depending on how much of others' content you use. Defining what qualifies as original content isn't always clear-cut and can vary depending on who reviews your YPP application.
No artificial or fake view.
How Does YouTube Shorts Monetization Work?
Here's how YouTube Shorts monetization works: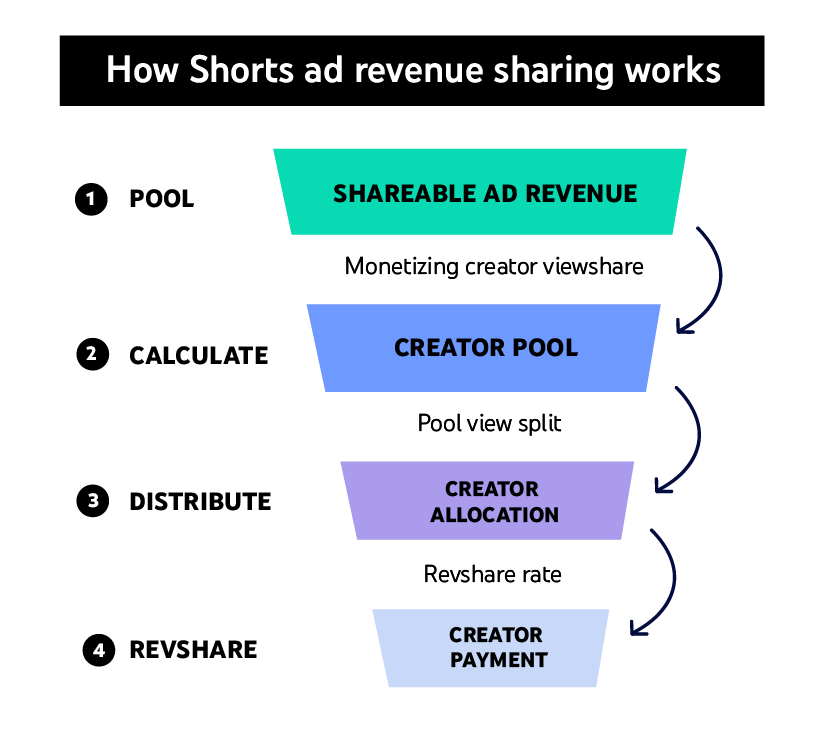 A percentage of the Shorts revenue gets added to the creator pool, which is based on the number of views and music usage from all of the Shorts on the site. From there, music publishers are paid based on how many times their uploads are used within Shorts.
After deductions are made, creators receive their share of the revenue from the creator pool. It's important to note that your payout depends on factors like view count, location, and the music tracks you incorporate. Not using music tracks can potentially increase your earnings from Shorts.
One thing to keep in mind about YouTube Shorts monetization is that the revenue from Shorts is split between the creators and the music publishers whose songs are used in the videos. This differs from regular YouTube videos, so it's important to keep this in mind if you are switching over to this format of video.
How Much Can You Earn From YouTube Shorts?
The question that most people really want to know the answer to is how much does YouTube Shorts pay? The short answer is: not a lot. YouTube Shorts are hard to monetize. Even big creators such as Zach King have stated that with a whopping 196 million views on Shorts, he made only $2919. In his first ever month of shorts, Zach King received only $8.14 for roughly 300,000 views. Based on a few different sources, we've calculated that Shorts typically earn creators about $50 for 1 million views.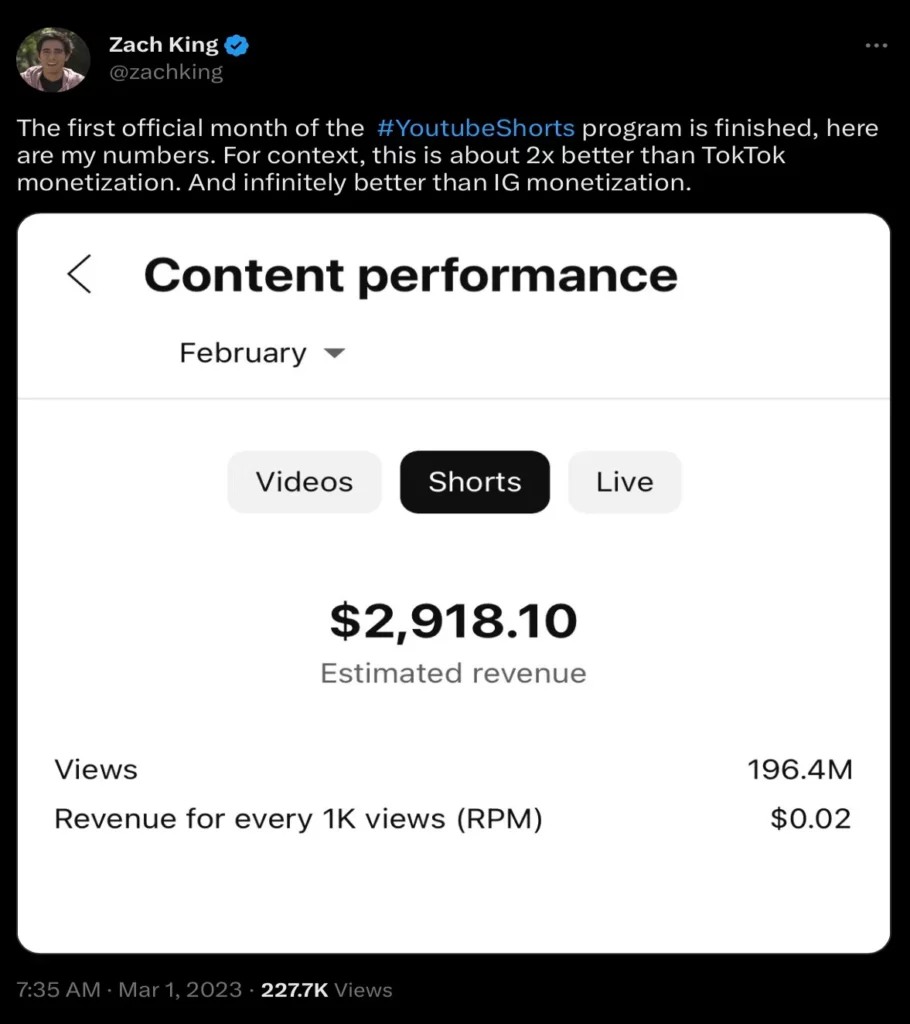 On the other hand, if you focus on long form YouTube videos, creators typically earn between $1,000 and $20,000 for 1 million views, which offers a much better payout.
Why Are Shorts Monetization A Lot Worse Than Long Form Videos?
Short-form content doesn't generate the same level of revenue as longer videos. Viewers aren't going to want to sit through an ad that's 15 or 30 seconds long when the video itself is only that long too. To combat this problem, YouTube only shows ads with Shorts about every five videos on average. That means the ad revenue is split between the creators of these videos.
On the other hand with full-form YouTube videos, there's the opportunity to add mid-rolls, which means ads multiple times on each video, generating a much higher level of income for content creators.
Should I Continue Doing Shorts If They Are Hard To Monetize Via AdSense?
As a content creator, you want to use your time wisely to ensure that you make good money from the videos you upload. You can probably tell by now that YouTube Shorts monetization is not the most profitable option, but Shorts are a good way to hack your growth as a content creator and gain early traction. By levering tricks such as YouTube automation, you can easily start outputting content in a relatively low effort way. Once you build a solid community, you can use this to obtain brand sponsorships which can help you to earn money on Shorts in a different way.
For the best chance of earning a steady income on YouTube, it's worth investing your time into creating longer videos. This will help you to earn more money and also develop a deeper relationship with your community.
Conclusion
Content creators need to take the time to learn about the rules that YouTube has in place to make money online in the future. You'll find that YouTube Shorts are quicker and easier to make, and are a good way to gain subscribers to your channel in the future.
Uploading high-quality content is the most important thing to keep in mind when monetizing your YouTube channel. Here at Vizard, we create AI-powered YouTube Shorts Maker to help YouTube creators like yourself to make great YouTube Shorts that will help you to make your channel more profitable. Upload your video to try Vizard YouTube Clip Maker for yourself.