If you've found yourself asking, "How do I make a video for Facebook?" you aren't alone.
Creating Facebook videos is not just a way for average users to connect with their followers and loved ones. For professionals in content creation and social media, it's a crucial skill for successful brand building. Sharpening your knowledge on how to make videos for Facebook can pay dividends for your brand's online presence and interactions with your audience.
Fortunately, Facebook allows you to make videos, clips, and slideshows directly from within the app. We invite you to join us as we explore how to best use these intuitive tools. We'll also reveal how to make a Facebook video stand out from the competition by leveraging innovative third-party tools.
How to Make a Video for Facebook: 5 Easy Steps
Knowing how to make a video for Facebook is as simple as following these five easy steps:
Open the Facebook App
To make a video for Facebook, begin by launching the mobile app on your smartphone, then clicking on the "What's on your mind?" status update box at the top of your feed. At the bottom of your screen, choose "Photo/Video." Alternatively, you can select "Camera" instead of "Photo/Video" and record a new clip or capture live images.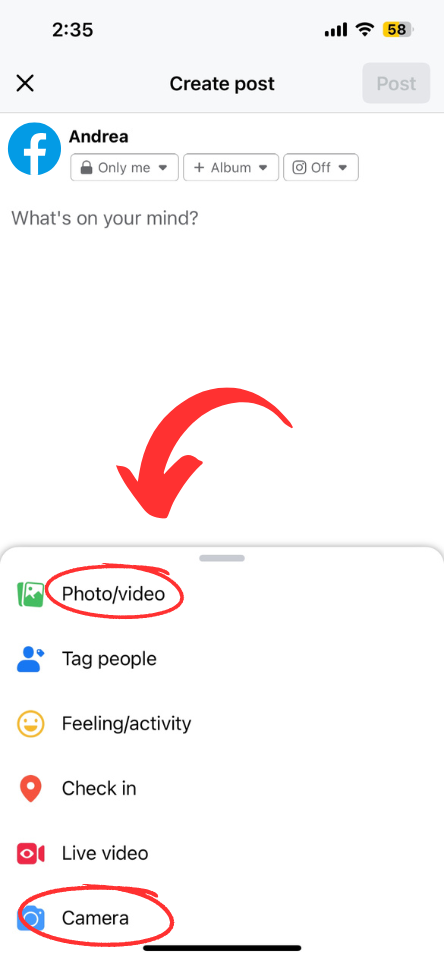 Choose Slideshow or Record a New Clip
Tapping the "Photo/Video" box will prompt Facebook to present you with a menu in which you can create a photo album, upload photos/videos, or create a slideshow, which allows you to combine anywhere from 3-10 photos into a single video. For our purposes, let's say you want to do the latter. Select "Create Slideshow."
Set Restrictions
Next, you will be prompted to set your video's restrictions. You can customize settings like slide duration, transition style, and aspect ratio. Choosing the right combination of attributes and restrictions is vital to making your video flow smoothly from one frame to the next.
Add Music
Now, you're ready to add music to your Facebook video. Admittedly, the platform only has a limited selection of music available. As a result, you will need to import a file from your device if you want a unique soundtrack.
Add Photos and Post Your Creation
Lastly, learning how to create a Facebook video involves splicing together photos. Once you have added and tinkered with your desired photos, you are ready to post your Facebook video slideshow. 
Challenges of Creating a Video for Facebook
Facebook's editing capabilities are quite limited, and the platform restricts how you can alter or enhance photo and video content. Additionally, the platform is limited in terms of royalty-free music. To make up for these limitations, you may want to consider using AI video editor like Vizard to create your videos before uploading them onto Facebook.
How to Create Videos for Facebook with Vizard
Now that you know how to make a FB video, it is time to get your hands on the right tools with Vizard, the AI-powered editing tool for creating video for Facebook. Our editing and video optimization tools allow you to add media, subtitles, media and more so that you can drive better user engagement and make your social media video content stand out. To learn more about how to make a Facebook video with music and dynamic effects using Vizard, signup for free and take our AI solution for a test drive today.