TikTok is amongst the widely used social media sites and has captured people's attention worldwide. Social media managers and content creators would be wise not to overlook the significance of good audio when aiming for attention-grabbing visuals. Adding appropriate music or sound effects to your TikTok videos can increase their impact and popularity.
This article will explore how to trim sound on TikTok, both before and after posting a video. We'll also look at how social media managers and content creators may benefit from using Vizard, an AI-powered video editor that makes video editing a snap.
How to Trim Sound Before Posting in TikTok
Before you let the world see your latest TikTok creation, make sure the audio fits the mood and tone of the video. Learn how do you trim sound on TikTok before recording by following these simple instructions:
Step 1: Open TikTok and Choose Recording Length
To create a new TikTok video, open the app and click the "+" button in the app's center. You will be prompted with a screen for you to record your TikTok. Choose your desired recording length as this will dictate the length of your videos as well.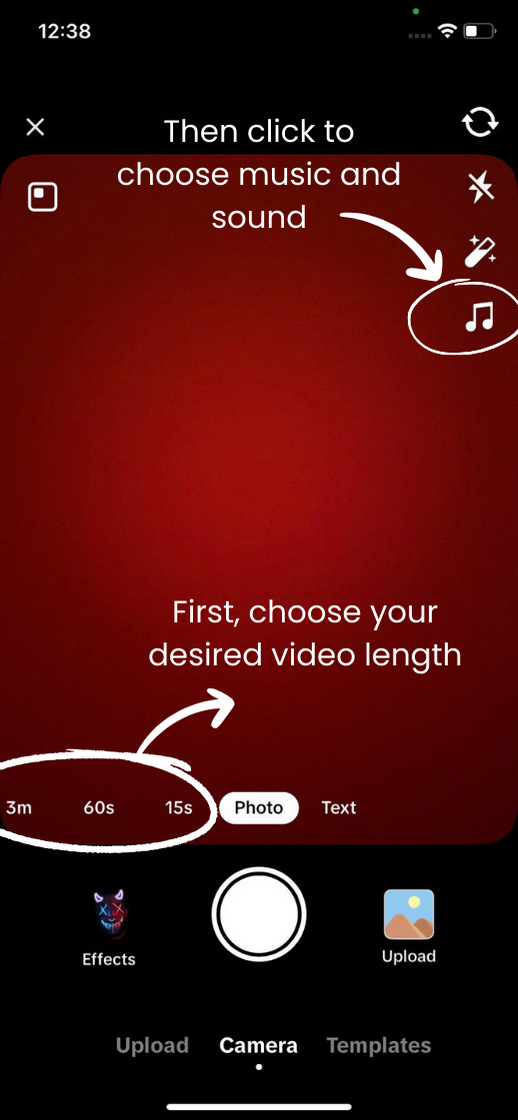 Step 2: Choose Sound and Begin Trimming
Then, select the music you wish to utilize by clicking "music" icon. It'll open up TikTok's music library where you can browse, search and choose your music or sound. Once a song has been chosen, it can be edited to the appropriate duration.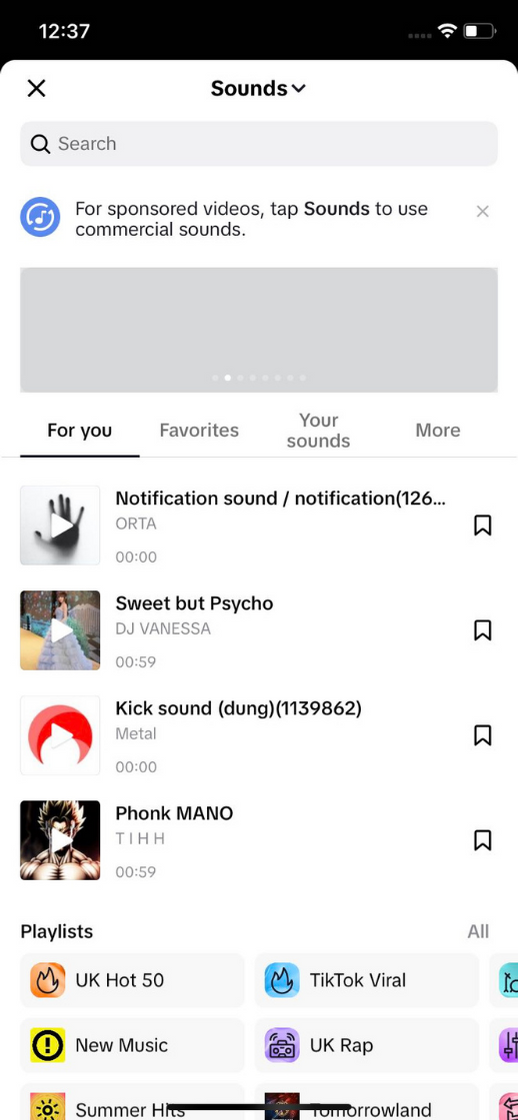 Step 3: Select a Segment of the Song by Dragging the Waveform
If you tap the "trim music" button, a waveform of the currently playing track will appear on the screen. To select the segment of the song you'd like to use in your video, drag the waveform.
Step 4: Check and Begin the Recording
Click "Done" to confirm your option once you are happy with the edited sound. You can continue making your TikTok video as planned.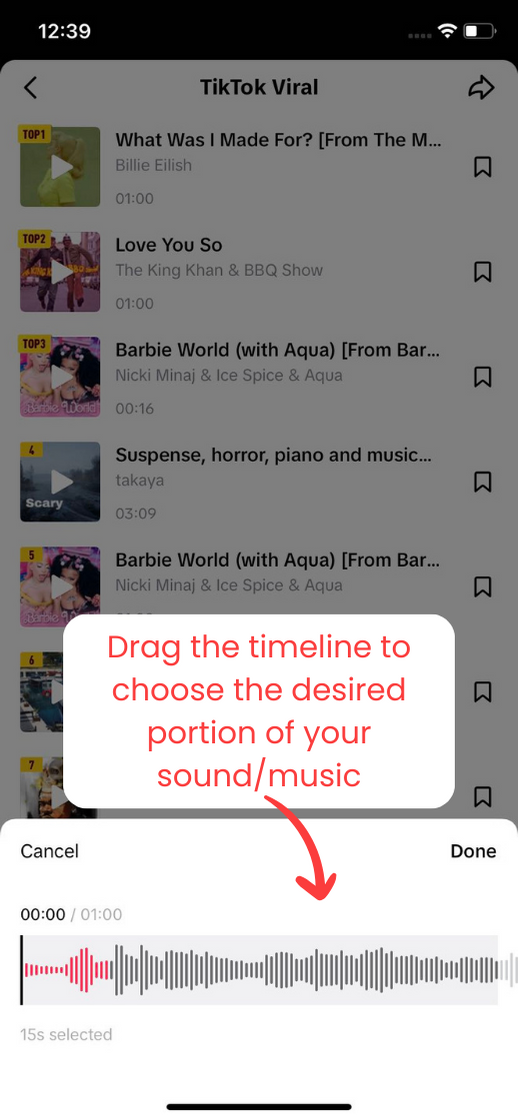 How to Trim Sound After Posting in TikTok
Sometimes, after uploading a video to TikTok, you may decide that the audio needs to be edited. Here's how to trim sound on TikTok after posting:
Step 1: Launch TikTok and Access Your Video
To add a new video or choose one from your device's library, open the TikTok app and hit the "+" symbol. Once you choose your recorded video, there are several ways for you to add sound.
Step 2: Select Sound for Your Video
Select "Sounds" from top of the screen, or the lower left side of the screen. From there, you can use an existing track from TikTok's collection, record a voiceover or choose your own.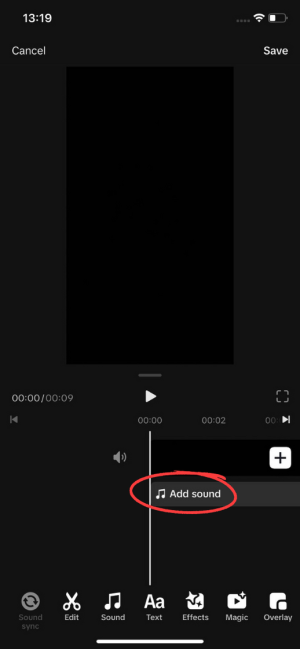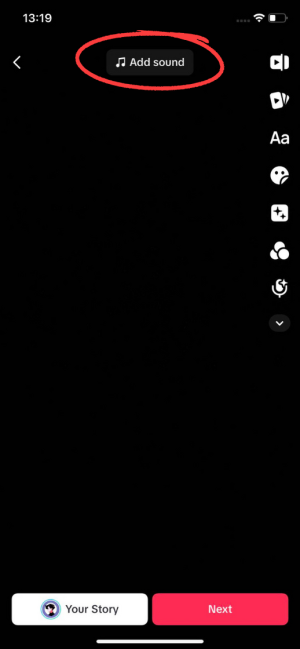 Step 3: Trim the Sound Freely 
When you find the perfect track, you can trim it to the length you need for your video. To modify the beginning and ending times of the audio, simply drag the waveform.
Step 4: Add Effects and Final Touches
After trimming the audio, you may make the video more attractive by adding effects, filters, stickers, and text.
How to Trim Sound Using Vizard
After looking at how to trim sound on TikTok manually, we will explore Vizard, an AI video editor designed for short-form video creation. This cutting-edge video editing tool helps content creators and social media managers who prioritize productivity and originality.
If you're wondering how to edit sound on TikTok, Vizard can edit and trim videos using text. Simply select a portion of the text, and click "Delete". The corresponding portion of the video will also be deleted.  
Vizard's text-based editor makes it easy for users who have already added audio to their videos to cut out unwanted sections. By removing the transcript, users can quickly and easily cut down the length of a movie. Users can quickly and easily generate precise and exciting clips from their movies by selecting specific text segments.
Polish Your Videos with Vizard's Editing Functions:
Vizard has several more editing features that streamline and improve the post-production process in addition to the sound reduction feature.
Custom Subtitles and Captions:
Vizard makes it simple to add captions and subtitles to your movies. The platform provides a variety of premade subtitle layouts from which authors can select the best fit for their videos. Vizard allows users to make subtle changes to the video's appearance by adjusting color, size, and typeface.
Media and Logo Addition:
Vizard allows its users to improve their films by adding material, logos, or video backdrops, all of which contribute to the all-important digital brand. This function guarantees that the creator's videos are consistent with their brand's visual identity and complement other promotional materials for a polished and expert presentation across all channels. 
AI Smart Cut:
The revolutionary proprietary AI behind Vizard's video editing software. Videos with talking heads or blank screens will have those parts automatically removed by the AI smart cut function. This feature is a huge time saver since it allows videos to be edited and polished to perfection without any human interaction.
Subtitle Translations:
Language barriers are becoming increasingly problematic when content is shared globally. Vizard's solution is an AI-powered translation tool that allows for subtitles in 14 different languages. Creators may securely reach varied audiences worldwide because of the platform's ability to translate content into 29 languages.
Bulk Clip Creation:
Even in lengthy videos, artists often want to select critical moments for social media distribution. Vizard simplifies this procedure by making it easier to find these highlights and generate clips in bulk. With this time-saving feature, social media managers can quickly generate attention-grabbing tidbits that appeal to their followers and increase engagement and reach.
Conclusion
Sound is essential in TikTok and social media video creation since it captures audiences and drives engagement. You can enhance the quality of your videos by learning how to trim sound on TikTok before and after posting. To reduce post-production time, content creators and social media managers are turning towards Vizard, an AI-powered video editor. 
Vizard provides various features that make editing videos engaging, creative, and efficient. To find out how this AI-powered video editor can streamline your editing process, simply upload your video. Let Vizard transform your short-form video creation experience today!