With TikTok now grabbing so much attention from GenZ and beyond, YouTube is also hopping on the short-form video trends with YouTube Shorts. These 15-60 vertical second videos are designed to captivate audience attention in an even shorter time span.
If you are already creating regular YouTube content, but wonder how you can join the trends, there is good news for you: you do not need brand new videos or footage.
In this guide, we'll tell you everything you need to know about creating Shorts from your existing YouTube videos, or make YouTube videos short. Let's dive right in!
Why Should You Create Shorts From Your Existing Videos?
Maintain posting consistency
We get it! There are days where you can't drag yourself to film new footage. Trying to maintain posting consistency can be demanding if you are creating brand new content for every video. On those days when you can't upload a new video, Shorts can fill the gap. They keep your channel alive and the YouTube algorithm happy because it sees regular activity.
Get more views, faster
Many YouTube creators (especially novice creators) have reported that it is a lot easier to drive views for YouTube Shorts. Posting Shorts can be a great way to boost visibility and reach a wider audience. Even better, you can position Shorts as teasers for your long form video. By linking to your full-length videos in your Shorts, you can intrigue viewers and direct them to the main video.
A testing ground
Unsure about a new video idea? Try it out in short form! Shorts offer a low-commitment way to test the waters and gauge audience reaction. If you see your ideas take off in Shorts, you can then dedicate more time to shoot a longer form video in great depth.
And it's easy to create!
Let's be real: creating a full-length video can be taxing. With Shorts, you have a simpler, quicker medium to work with. It can be a breeze to edit and upload, especially when you're repurposing content from your existing videos. With the right tool, it'll only take you a few minutes to create multiple Shorts from your existing long form videos.
How to Create Shorts From Your Existing Videos (Step-by-Step Guide)
Now that you are ready to turn your existing videos into YouTube Shorts, let's look at how you can do this step-by-step with the YouTube App.
Step 1: Go to Your Library
First, open up the YouTube app on your mobile and navigate to the Library tab. Note that you can only edit a video on your on channel into Shorts so make sure you're logged in. Choose any long form video longer than 2 minutes to see the Edit into Short option.
Step 2: Start creating Shorts
When you tap on the video you've chosen, there's a handy little button labeled "Remix" right beneath the video title and choose 'Edit into a Short'.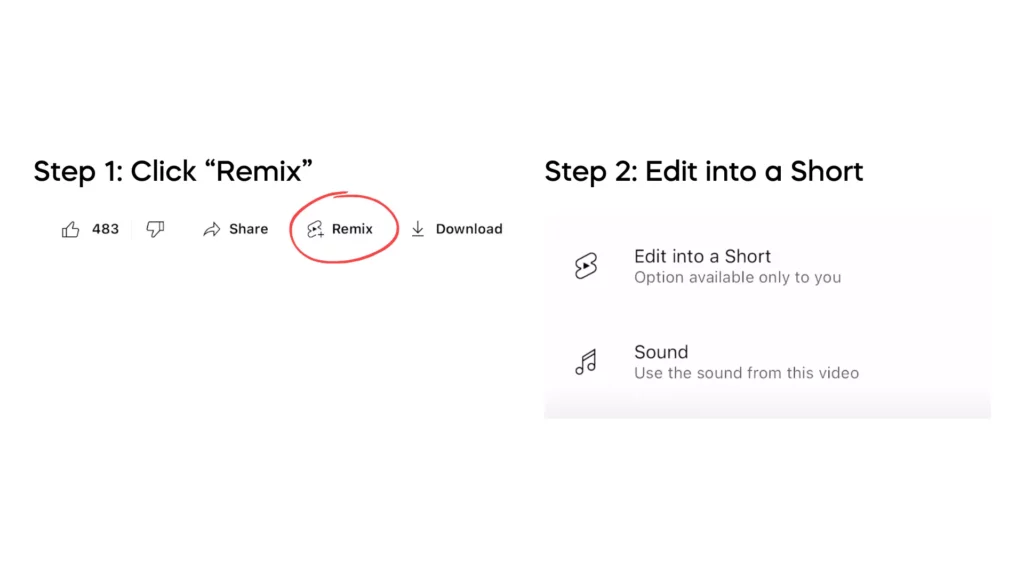 Step 3: Trim
Now, you'll be on the Shorts creation page where you can select a portion of your long-form video to turn into a Short. To adjust the duration, you can use the slider at the bottom of the screen to change the start and end of your clip. As you do so, keep an eye out for the red bar on top of your screen. That's your 60s timer to make sure that your clips do not go over 60 seconds.
Once you select your clip, if it's under 60 seconds, you'll have the option to add in additional media or clips to this short. Tap on your media library icon at the bottom-left and select any video you'd like to merge.
Step 4: Edit it your way
You can then edit your Shorts similar to how you edit any YouTube Shorts. We wrote an entire guide on editing tips for YouTube Shorts for you to learn all the ins and outs of creating YouTube Shorts!
Step 5: Get it ready for publishing
Once you've prettied up your Short, tap 'Next'. Type in a catchy title that grabs attention. Make sure you stay within 100 characters to meet YouTube's platform requirement. Once you are done, tap the 'Upload Short' button to publish. Voila! Your Short is out for the world to see.
Your published YouTube Shorts will also include a link back to your original YouTube video. Viewers can navigate back to your original long form video. You can convert these views into loyal viewers.
How Can You Create YouTube Clips From PC (with Vizard)
Trying to select the right clips and make your videos pop isn't the easiest thing to do on your phone, which is why we also recommend using an online video generator like Vizard for you to easily edit clips from your browser. While there are a ton of AI-powered short video creation tools out there, today we'll walk you through how you can get 10+ YouTube Shorts from your long-form video with Vizard. Spoiler alert: the entire process is done automatically and will only take a few minutes. Here is how:
Step 1: Upload and transcribe
Upload your video onto Vizard and select the language being spoken in the video for it to be properly transcribed.
Step 2: Get AI clips or clip manually
After your videos finish processing, you can click "Get AI clips" for Vizard to automatically generate fully edited clips for you. The whole process will take a few minutes so sit back as Vizard works its magic! Note that Vizard works best with videos over 15 minutes so make sure you upload videos with the right durations.
If you prefer to edit clips yourself, you can do that in Vizard's video editor interface too! Once you go into the editor, you'll see your video transcription. Select a portion of the transcription that you wish to turn into clips of, right click and select "Create clips".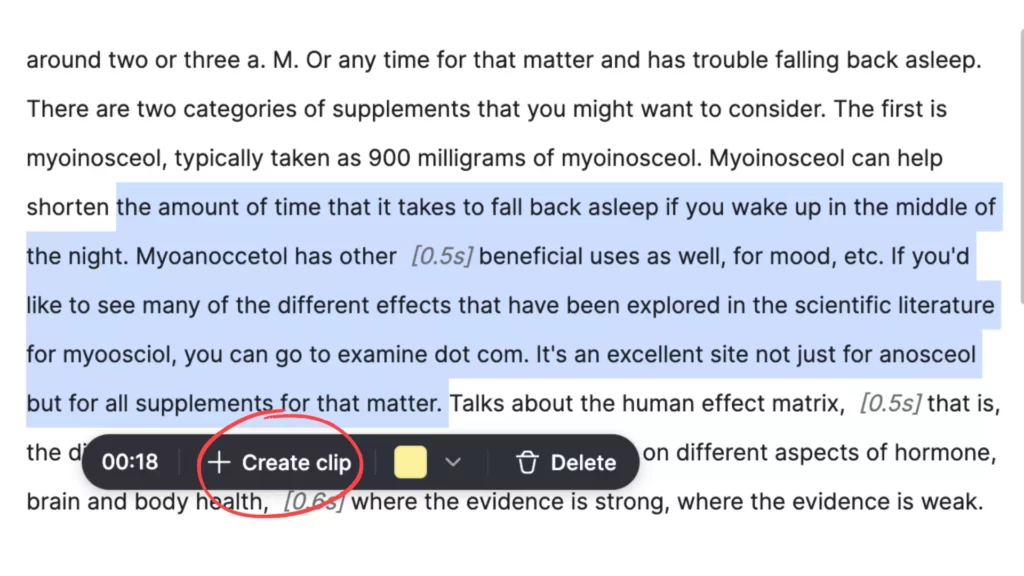 Step 3: Edit
With Vizard, you can:
Trim your video: want to fine tune your video? Simply delete the text to trim your videos.
Resize and change video ratio: choose 9:16 for YouTube Shorts to ensure the best viewing experience
Add image, logo or other media: make your videos stay on brand by consistently adding logos to your videos
Add subtitle: add subtitles and change its style to make your videos more accessible to a wide audience and make it more catchy
Step 4: Export and share
Your YouTube shorts are ready for the world! Click "Export" at the top right, and after your video finishes exporting, you can either download or directly publish it on YouTube.
Top Tips for Creating Shorts from Your Existing Videos:
With YouTube Shorts, creators have a fresh way to engage their audience. These short videos can be highly impactful when done right.
Pick your best moment
Keep in mind that your YouTube Shorts audience may differ from your full-length video viewers. Given the short duration (less than 60 seconds), maximize every moment and skip lengthy intros. Identify standout moments, whether they're funny segments, vital tips, or heartfelt messages. Shorts are designed to grab attention quickly, so choose content that resonates.
Link back to your long form video (when possible)
Creating shorts from YouTube videos also lets you promote your longer content. Use the short as a teaser to guide viewers to the complete video.
Consistency matters
Consistency is key on YouTube, including with shorts from your video content. Regularly producing shorts keeps your audience engaged and coming back for more, especially if you're just starting out. Posting consistently provides more data to learn from, enabling continuous content improvement.
Optimize every second
Consider the algorithm game—YouTube wants viewers to stay engaged. Average view time matters. Plan your content accordingly, making every second count so viewers don't drop off and impact your average view time.
Conclusion
Now that you know how to create YouTube Shorts from your existing videos, start by uploading a video onto Vizard. Our YouTube Shorts Maker has everything you need for you to start growing your channel. Upload today!