Creating a successful podcast takes a lot of hard work, dedication, and creativity. Along with keeping your content timely and managing all the technical aspects of podcast production, you've got to constantly focus on how to boost podcast listener numbers while figuring out how to build your podcast audience. Thankfully, growing a larger following doesn't have to be overwhelmingly complex, particularly with appropriate guidance.
This article delivers strategic insights and practical tips that will assist you in generating a more significant buzz for your show, which, in turn, will attract a larger and more engaged listener base.
How to Grow Your Podcast Following
Growing a podcast into a media powerhouse is possible if you consistently increase your audience size and your podcast's reach. Best practices for how to grow your podcast audience start with understanding who your target audience is. Once you've defined your audience, you must pull out all the stops to stretch each podcast's reach. That means making it as accessible to as many people in your target group as possible.
Research Your Target Audience
The most successful podcasts are geared to a specific audience. It's important to define your niche audience and understand everything you can about the kind of person attracted to and entertained by your content. You'll need to become intimately acquainted with these people, understanding who they are, what they like, and what makes them tick.
Savvy marketing professionals know that the best way to identify any audience you're trying to reach is to create a detailed profile of a typical member of this target demographic. This phantom listener representing your audience is referred to as a persona. You can create as many personas as you like. The idea is to come away with a true understanding of who you're trying to reach with your podcasts.
Start by listing their ages and other characteristics such as hobbies and interests, jobs, income levels, political leanings, and where they live. Drill down as many specifics as possible and try to think of an exact person who embodies the characteristics of your target listener. You can even create a whole backstory around who they are.
Once you have an individual or individuals in mind, pinpoint where they would engage the most online. Does this person favor specific social media platforms over others? Do they follow particular hashtags? Where do they get their news? What music do they listen to? What other podcasts do they listen to?
Now that you know your listener persona inside and out, look at your programming from their point of view. How can you make it even more suited to their preferences and tastes? As counter-intuitive as it may seem, the more precise your content focus is, the more likely you will find a loyal audience to help you grow your podcast.
Take and Distribute Videos as You Record Your Podcast
Consider video recording your podcasts, especially when you have high-profile in-studio guests. By producing both video and audio content, you unlock the potential to disseminate your material through visual platforms such as YouTube and audio-centric services like the Spotify for Podcasters platform. This dual-format approach diversifies your distribution channels and expands your audience significantly.
Create a Website
When considering how to grow your podcast listeners, it's crucial to cultivate a distinctive brand identity for your show.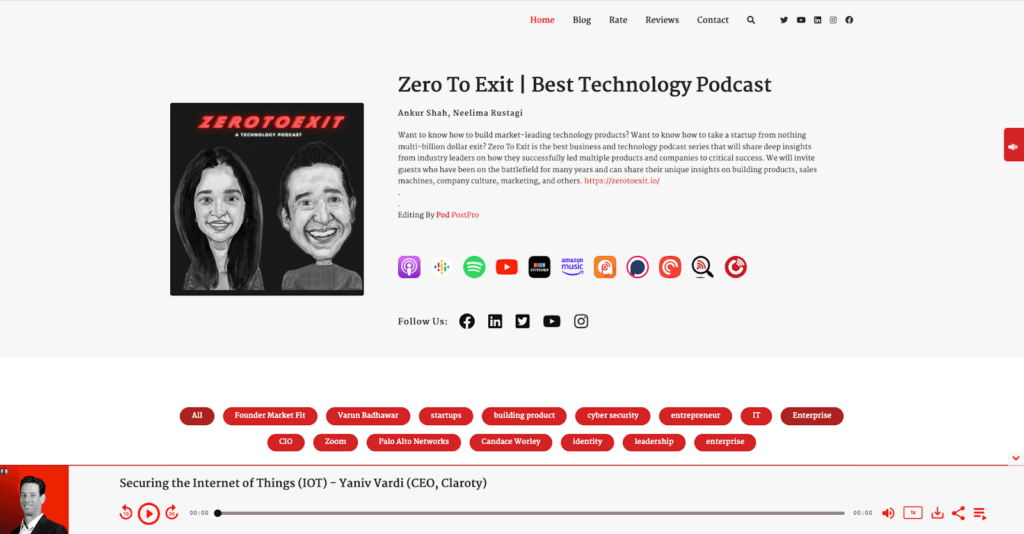 Launching a dedicated website for your podcast plays a pivotal role in forging brand recognition. Ensure your website features a compelling biography that narrates your journey and the inspiration behind the podcast's inception. An 'About Us' page is also vital, offering insights into the podcast's mission and ethos. Clarify the podcast's intent—to entertain, educate, or thrill—and provide a thorough overview of the recurring themes and subjects you tackle in your episodes. Crafting a detailed bio and a purposeful description highlights your expertise, establishes your authority, and serves as a strategic move for content optimization. This will improve your visibility on search engines and draw more listeners to your podcast.
Your website is also an excellent vehicle for posting links directing listeners to your podcast platforms and showcasing videos you have made of your shows. One example is Lenny's Podcast. The links to different episodes, along with their summaries and transcriptions, make it easy for listeners to find content. It also helps the content get discovered by search engines, increasing its reach.
Add Your Show to Podcast Directories
Maximizing the potential of podcast directories is a strategic move for any podcaster. Platforms like Apple Podcasts, Spotify, and Google Podcasts are where most listeners discover, subscribe to, and download podcasts. By getting your podcast listed on these directories, your show will regularly update with new content via your RSS feed. This ensures subscribers automatically receive the latest episodes downloaded to their devices and notifications for new releases. To optimize accessibility and visibility, ensuring your podcast is featured across a wide array of podcast directories is critical, allowing you to reach and engage an ever-expanding audience. Here is a list of the most popular podcast directories:
Transcribe Your Video or Audio
Transcribing your podcasts is one of the easiest and most beneficial ways to increase your podcast reach. Not only do transcripts allow hard-of-hearing individuals to enjoy your content, but they also benefit people whose native language is not English to follow along.
Look for a podcast transcription tool that fully automates the process. You can then optimize your content and repurpose it as a blog post, email marketing content, and more.
Transcriptions are also valuable for video podcast recordings. They can be used to add subtitles and even translate the audio portion into different languages, giving your content the potential to develop an international following.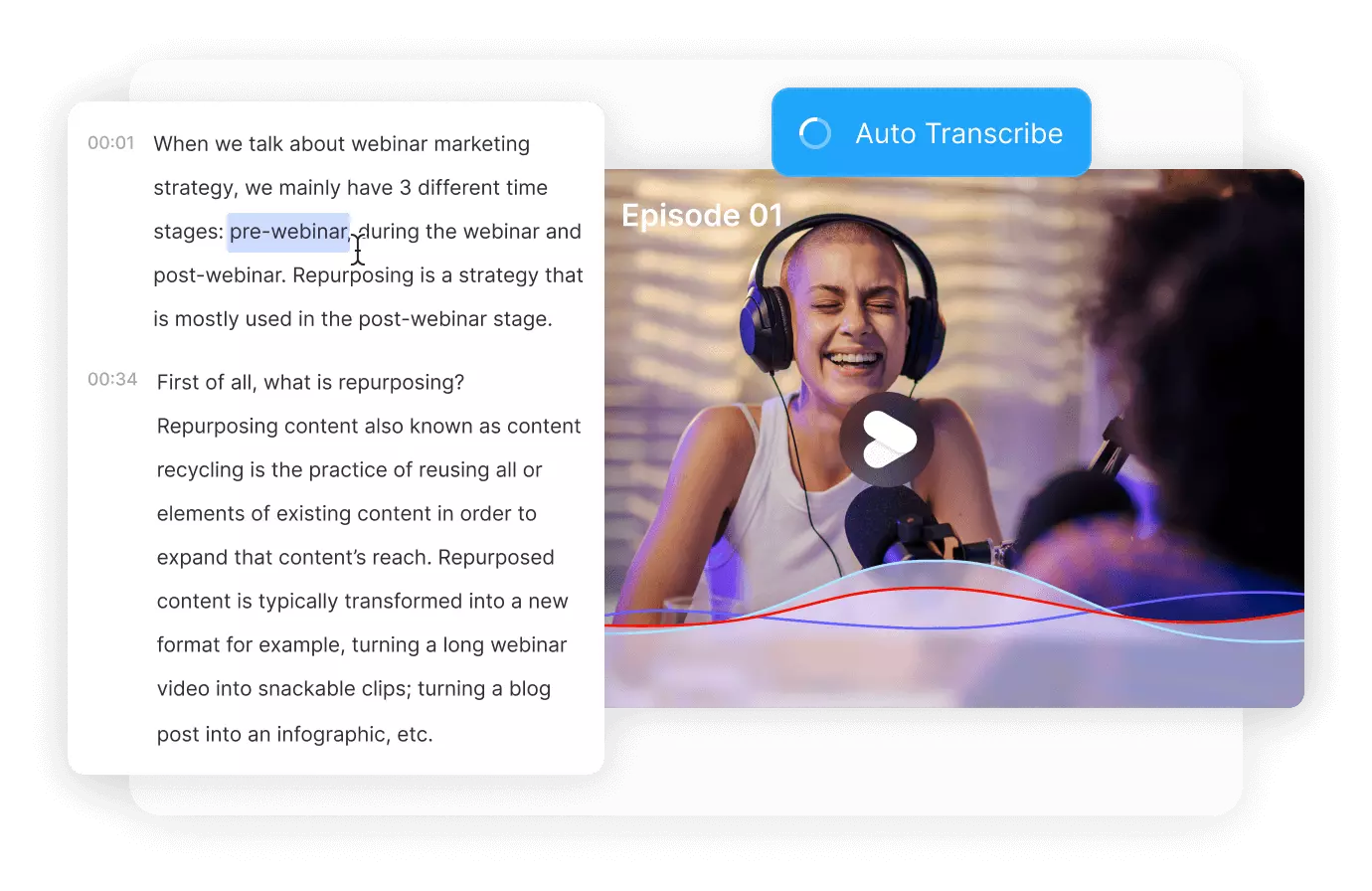 Release Promotional Clips and Teasers
Build engagement and anticipation for your podcast episodes by turning pieces of them into promotional clips and teasers. You can convert audio recordings into soundbites to promote an upcoming show during your podcast outro. You can also use video snippets to make trailers and other promotional clips to build anticipation for an upcoming show. Short-form videos can be shared on TikTok, Facebook Reels, Instagram Reels, and Triller. This strategy effectively displays your talent, offers a taste of your content, and entices new viewers to engage with your brand by following your social media profiles, exploring your website, and subscribing to your podcast.
Collaborate with other Podcasters or Influencers
Enhancing your podcast's listener base can be achieved by tapping into the networks of influencers and fellow podcasters for collaborative promotion. Host influencers with a substantial following on your show and distribute promotional teasers and content before the broadcast and the entire episode post-airing. Cultivate partnerships with other podcasters to create a mutual promotion ecosystem where you can support and amplify each other's content.
Book other podcasters on your show and see if you can get them to host you on theirs. Then, cross-promote both appearances, inviting each other's audiences to share the recordings and subscribe to the podcasts. If you want to become guests on others podcast, here are a few ways you can test out:
Reach out and ask the podcast hosts
Use podcast guest placement or PR services
Market yourself as a thought figure in your niche and others will reach out
Hustle to Promote Your Podcast on Social Media in Every Way You Can
Create social media accounts on all your target audience's platforms. Follow the podcasters and influencers and comment on their content. They will likely reciprocate and comment on yours, attracting their followers to your pages.
When you share links to your podcasts, blogs, and videos, monitor those posts for comments. Respond to comments and ask followers to listen to and rate your podcasts whenever possible. Higher ratings add credibility, attract more listeners, and help grow your social media pages. Keep this engagement loop going to attract more followers who will, in turn, share your content and introduce new people to your podcast.
More than any other promotional vehicle, the right level of social media engagement is the key to podcast success.
You can also leverage your guests' audience by gently asking them to share the podcast on their network too. You can make this easy by creating a guest social media package with promo messages, visuals and links to the episodes.
Host Giveaways or Contests to Engage Listeners
Treat your listeners to giveaways and opportunities for exclusive promotions, partnering with influencers or brands to cross-promote. Giveaways and contests are also a great way to engage with loyal listeners while encouraging them to promote your podcasts. You can also host contests encouraging listeners to vie for prizes by following you on social media and sharing your content or subscribing to your podcast.
Vizard: An All-In-One Solution for Podcasters
Promoting your podcast and increasing your audience size is easy when you have the right resources at your fingertips. And there's no more user-friendly support than Vizard, an all-in-one solution for every podcaster on a mission to succeed.
With Vizard AI-powered podcast editor, you don't have to become an editing expert to produce professional promotional content or materials. It does all the work, turning your audio or video podcasts into transcripts with the push of a button. It then repurposes that content into a series of optimized blogs or video subtitles appearing in as many as 16 languages.
Are you looking to captivate your social media audience with engaging video snippets? Vizard's AI podcast clip generator streamlines this process by intelligently selecting the most impactful segments of your footage. It then automatically trims and edits these clips, tailoring them to appeal to your target audience, ensuring each snippet is primed to attract and entertain.
Ready to get started? Check us out to learn more about how to grow a podcast and how to increase podcast listeners with Vizard's AI-powered platform.