Livestreaming is becoming a major way for creators and brands to engage and interact with their followers on TikTok, a major social media platform. According to a report by App Annie, users spent 548 billion hours watching live streams, with TikTok being one of the most popular platforms for it. Going live on TikTok is a great way for creators to build a more personal connection with the audience and cultivate a more loyal following. If you are thinking about going live on TikTok and wondering how, you are in the right spot! In this article, you'll find everything you need to know about TikTok live.
What is TikTok live?
TikTok Live is a feature that allows creators and brands, like yourself, to engage with your followers via live video. You can interact with your audience in real time, hold Q&A sessions, and even receive virtual gifts through going live on TikTok. Unlike regular TikTok videos, which are typically under one minute long, you have much longer to interact with your audience during a livestream.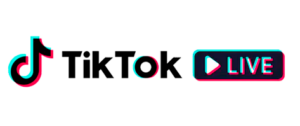 Eligibility for going live
To go live on TikTok, you need to meet a few eligibility requirements:
Minimum follower count
According to TikTok, you need to have at least 1,000 followers on your TikTok account. This follower count threshold ensures that you have an audience and helps maintain a certain level of engagement during your livestream. While there are guides out there that claim to teach you hacks to get around this requirement, we tested them with our own accounts, and unfortunately, they did not work for us. It is recommended that you try to build a following before leveraging TikTok's live feature so that you can get the most out of it.
Age requirement
You must be at least 16 years old to go live on TikTok. Even better if you are over 18 years old so that you can earn gift points in the process!
I've met all the requirements. Why can't I go live on TikTok?
If you've met the requirements above but are still unable to go live on TikTok, check to see if your TikTok app is upgraded to the latest version, and if you are experiencing any technical issues. It is advisable that you reach out to TikTok support for further assistance.
Preparing for TikTok Livestream
With more and more creators leveraging livestreams as a way to engage with their audience, it is becoming ever more competitive to stand out amongst all the other live streams going on at the same time. There are a few things you need to consider to stand out:
Choosing the right timing for TikTok Live
As you choose the best time to go live on TikTok, take a look at your TikTok analytics. You can understand your target audience demographics and their typical usage patterns on TikTok. Factors such as time zones, weekdays versus weekends, and popular viewing times can impact the reach and engagement of your livestream. Find out when your followers are most active on TikTok. As you continue to livestream, you can experiment with different times to find what works best for your audience.
Planning the content and format of the livestream
Define the purpose and goals of your livestream, and let that drive the type of content you create during the livestream. Do you want to promote a product, get more eyeballs, or build personal connections with your audience? Nail your goals and plan accordingly. If you need inspiration on what type of content you can offer during a livestream, TikTok HQ has a Live content strategy guide that you can check out. While you don't need to write a script for livestream, planning out an outline can help make your livestream more engaging and increase total view time. Keep your livestream focused and organized so that you can stay on track.
Setting up a suitable background and lighting
Choose a clean and visually appealing background for your livestream. Make sure the area is well-lit to ensure good visibility. Natural light or additional lighting sources can help improve the quality of your video.
Testing audio and video quality before going live:
Before starting your livestream, check the audio and video quality to ensure a smooth and enjoyable experience for your viewers. Test your microphone and make sure it is working properly. Consider using external microphones for better sound quality if needed. Check the camera angle, framing, and focus to ensure your video is clear and visually appealing. Test your internet connection to prevent buffering or lagging issues during the livestream.
A Step-By-Step Guide to Go Live on TikTok
Here is a step-by-step guide to starting a livestream on TikTok:
Step #1: Open the TikTok app and tap the "+" button at the bottom.

Step #2: Swipe left on the bottom menu options until you find the "Live" option and tap on it to proceed.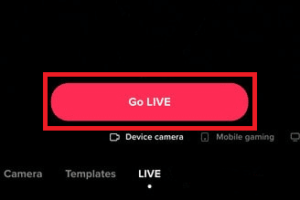 Step #3:

Enter a catchy and descriptive title for your livestream. You can also add relevant hashtags to help people discover your stream.

Step #4:

Once you're ready to go live, tap the "Go Live" button. A countdown will begin, allowing you a few seconds to prepare before the livestream starts.
If you are like me and prefer to plan things ahead of time, you can also schedule your TikTok live ahead of time and manage your upcoming TikTok Lives.
Grow and Maximize Your Livestream
Tip #1: Collaborating with other TikTok creators
Collaborating with other TikTok creators can add excitement and expand your reach. You can invite guest creators to join your livestream as guests. Alternatively, you can even join others' livestreaming sessions to get a feel for how it goes. You can also encourage other TikTok creators to create duets or reactions to your content during your livestream. This allows for cross-promotion and encourages collaboration within the TikTok community.
Tip #2: Post a video prior to going live
This can ensure that you show up on your viewers' For You page. As they click on the video, they can see a special icon on top of the screen for them to enter your livestream directly. This can help with the discoverability of your livestream.
Tip #3: Promote your livestream in your videos
If you've scheduled your TikTok live ahead of time, you can also promote your Livestream by adding a link to the livestream. Here's how:
Tap the "+" icon under the "Related videos" section of your LIVE Event page.
After recording your video, select "Next" and then tap "Add link" to choose the LIVE Event you want to promote.
The LIVE Event link will be added to your video. You can then press "Done" and "Post" to publish.
Tip #5: Announce your livestream ahead of time
This is a great way to build anticipation for your livestream and get your audience hyped to engage.
Tip #6: Repurpose live stream content
If you had a great time engaging with your audience during your livestream, whether it's a Q&A, a live chat, or a challenge, there will be a ton of good content for you to utilize. A great tip to increase the lifespan of your livestream is to repurpose your live stream content. Identify the moments where your users had the most reaction or engagement, and pick out the best clips that can be posted as TikTok videos for your viewers to rewatch. You can easily do this with Vizard, a video repurposing tool. You can record your livestream, upload it onto Vizard, and automatically get ready-to-publish short clips instantly.
Build Your Community with TikTok Live
Now that you know everything about how to go live on TikTok, it's time to pick a date. Going live is a great way to engage with your audience and build an intimate community in a casual way. Make sure you have fun and enjoy the process!